Reiki has emerged as a successful alternative for providing better care after any major health crisis including replacement surgery.  It is now scientifically proven that Reiki can help with many issues arising after replacement like pain after total knee replacement.
Total knee replacement is increasing worldwide irrespective of age, it's very alarming that the young generation increasingly needs to go through the TKR (Total Knee Replacement).
According to the Agency for Healthcare Research and Quality, more than 600,000 knee replacements are performed each year in the United States.  In India, it is estimated that over 1,20,000 TKRs are performed annually.
What Is Total Knee Replacement?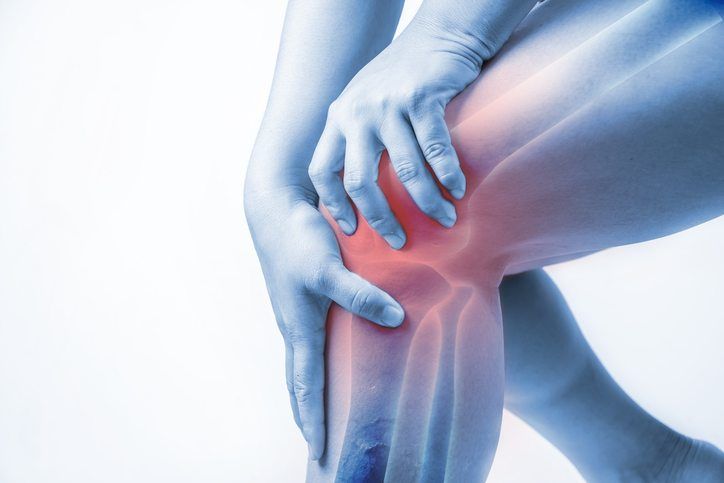 According to Wikipedia, Total Knee Replacement is, "Knee replacement, also known as knee arthroplasty, is a surgical procedure to replace the weight-bearing surfaces of the knee joint to relieve pain and disability. It is most commonly performed for osteoarthritis, and also for other knee diseases such as rheumatoid arthritis and psoriatic arthritis."
It is important to note that Osteoporosis itself does not cause knee pain, deformity or inflammation and is not a reason to perform knee replacement.
Knee replacement surgery can be performed partial or total knee replacement and surgery consists of replacing the diseased or damaged joint surface of the knee with metal and plastic components.
Advances in Total Knee Replacement
TKR helps relieve pain and restore motion in patients and the latest advancement in the total knee replacement surgeries has been increasingly performed.  But younger patients due to their active lifestyle put excessive load on the artificial joint. This puts them at increased risk of accelerated wear and failure.
Sometimes revision or re-do surgery is required if the first TKR not functioning properly.  But computer navigated TKR has changed the whole scenario.
Recent data from the Australian Joint Replacement Registry showed that computer navigated TKR had significantly lower rate of re-do surgery as compared to conventional TKR in younger patients (less than 65yrs). Computer navigation helps improve accuracy during TKR so that the artificial knee joint is aligned correctly. Data from the Norwegian Joint Replacement Registry showed that computer navigation reduced the rate of re-do surgery for mal-alignment.
Though reports are quite comforting one can not neglect the complications that may arise after total knee replacement.
Complications After Total Knee Replacement
The complication rate after TKR is very low but chronic illnesses may increase the potential for complications.
Different kinds of complications like infection, blood clots, continued pain, implant problems, neurovascular injury can take place.
Patients with rheumatoid arthritis, diabetes mellitus, poor nutrition, old age, and obesity are at higher risk of both superficial and deep infection.
Reiki Can Help You After Total Knee Replacement
Scientific studies have shown that Reiki can help after TKR surgery in many cases.  Two pilot studies had conducted in 2017 & 2017, clearly showed that the patients who offered Reiki before and after TKR, had better results.
In both cases, the patient received Reiki before and after surgery experienced significantly less pain than those who did not.
In the 2017 study, patients were randomly assigned to Reiki, sham Reiki or bed rest.

When comparing pre-surgery findings to the patients' symptoms 48 hours after surgery, only the Reiki group showed significantly less pain, lower blood pressure and reduced anxiety.

The Reiki group also needed significantly less pain medication than the other two groups, and a greater percentage of them had been discharged from the hospital 48 hours after surgery.
Now let me explain what the above findings are as many of you may not aware of the Reiki terminology.  Whenever such studies are held, participants are divided into different groups to measure Reiki results.
Here, participants are divided into three groups, Reiki group, Sham Reiki and Bed rest.  Reiki group means the participants are given Reiki sessions before and after total knee replacement surgery.  The sessions maybe once or twice in a week for a full Reiki session which may long for more than half an hour, as it defers from practitioner to practitioner.
Sham Reiki means a group on whom Reiki is not applied, but only placed hands on the patient, imitating the Reiki practitioners. In short, copying the hand placements but not by Reiki practitioner.  This is done to prove that Reiki is not a placebo effect.  Many people claim that Reiki is a placebo effect, but just by placing hands on the body, by whom is not attuned to Reiki, makes very little or no effect.
Bed rest, I believe is the group with no Reiki and Sham Reiki.  Just normal group going through the routine before and after total knee replacement surgery.
Now if we check the findings of the Reiki group, the results are really optimistic.  It observed less pain, anxiety and low blood pressure among the participants.
I say these results are very optimistic because if we consider the age group going through the TKR surgery, the majority of them are senior citizens.  Anxiety and blood pressure can be a major issue, as anyone can feel anxious if diagnose with the total knee replacement surgery.
In this situation, Reiki can play a major role, as Reiki is soothing energy and helps in the homeostasis of the body, and works on the physical and mental plane of the person.
Relieving pain can be a major benefit of applying Reiki in such conditions.  Reiki is well known for lessening the intensity of the pain.  It is also noted in the above observation that Reiki helped in the need for pain medication significantly.
Reiki can be a major game-changer, as we know the side effects of medication.  The Reiki group needed much less pain medication as a result of the Reiki sessions after surgery.
It is also noted that the greater percentage of people discharged from the hospital in 48 hours after surgery. It shows that Reiki can help to recover from the wounds-physical and mental much better.
Reiki sessions before and after Total Knee Replacements shows the following results:
Significantly less pain
Lower blood pressure
Reduced anxiety
Significantly less pain medication
A greater Percentage of discharged from hospital 48 hours after surgery
It is also important to take into consideration the remark of a participant, " Reiki can be a useful addition to routine care of patients undergoing total knee surgery."
Reiki can be a great additional support system for healthcare providers also as Reiki is a low-cost offering and can be significant cost savings to them.
Pain-management medications cost hospitals, on average around $20,000 annually for opioids (Hassan et al, 2016) and an average length of stay costs about $2,383/day in the United States (Shaffer et al, 2016).

Moreover, providing a non-narcotic alternative to pain management fulfils a key Joint Commission mandate (1) and may reduce the risk of post-surgical opioid addiction.

Thus, positioning Reiki as a cost-effective and regulatory-compliant adjunct to standard-of-care treatments should foster a more widespread adoption and acceptance of Reiki across a wide range of clinical settings.
Total Knee Replacement can take 6 days to 6 months to total recovery and return to most activities, maybe a year to make a full recovery and regain full strength.
Why not offer them Reiki sessions, as Reiki can help to heal early and reduce many side effects of medications.  Reiki can also heal on the mental plane and relieve anxiety.
Though it is an alarmingly increasing number of TKR surgeries that going on across the world, the latest computer TKR is comforting with lesser complications.
Reiki can be a great help before and after TKR surgery, so I want to offer my services as a Reiki Practitioner, for Free Reiki Sessions. Contact me:shubh@reikiamazes.com.
Recommended Read:
ReikiResearch_ShiftGears-Reiki Research on Total Knee Replacement.
Conclusion:
Total Knee Replacement Surgery and Pain after TKR can be managed at a greater level by the application of Reiki before and after surgery.  Reiki helps the patient to be calm, much relaxed and speedy recovery.  Another major benefit of Reiki is it reduces the need for pain medication after the surgery.  As we all know that in chronic cases like rheumatoid arthritis, diabetes mellitus, poor nutrition, old age, and obesity complications can be severe.
Fast & speedy recovery with Reiki is possible as the main function of Reiki is maintaining the balance or homeostasis of the body.  So if Reiki sessions are given on a regular basis, a patient can be recovered much earlier than usual.
It is comforting and encouraging to see that many of the hospitals are now working in assistance with Reiki practitioners in the US and in many parts of the world.
With the hope that many more people will learn Reiki, Bye For Now.