Hello Beautiful Souls,
My book "An Unconventional Outlook: Reiki" is published on Amazon.  Pretty existing.  I want all my readers to get this book for free.
You can get not only mine but as much as 2 million books for free if you get enrolled in Kindle Unlimited.
What is Kindle Unlimited?
Kindle Unlimited is a subscription offered by Amazon.  It's a wonderful opportunity for all book lovers as it offers various books, audiobooks, and magazine subscriptions at a very minimal price.  But you can get it for free for 30 days.  I will explain it in a minute.
According to Amazon," Kindle Unlimited is a service that allows you to read as much as you want, choosing from over 2 million titles, thousands of audiobooks, and up to three select magazine subscriptions. Explore new authors, books, and genres from mysteries and romance to sci-fi and more. You can read on any device. It's available for $9.99 a month and you can cancel anytime."
It's really easy to cancel your subscription.  Click on your Account tab, and click on "membership and subscriptions".  It will lead you to the subscription page and you can cancel it any time.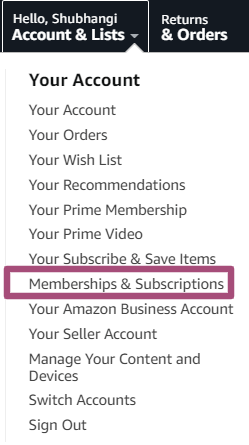 It's a no-brainer for me because it gives us the opportunity to read our favorite books on any device.  
You can download the free Kindle app on your device to get started.  Click the following link, Sign in to your Amazon account, and it will give you access to Kindle Unlimited subscription for free.
You will need to add your card details or any other payment details to avail Kindle Unlimited subscription.  It's totally worth it, but if you don't want to continue, you can just cancel it at any time.
Books that are part of the Kindle Unlimited service will usually have a tag on top of them highlighting the same.
The Harry Potter books are part of the Kindle Unlimited service, as are Tinkle comics, Amar Chitra Katha titles, the Immortals of Meluha series, etc.
There are books in Hindi, Marathi, Gujarati, and Tamil also available as part of the Unlimited subscription services.
Some Manga comics such as Battle Angel Alita are also listed as part of the service.
The best part is there are thousands of books available for free on Amazon.  Even if you cancel your Kindle Unlimited, you can access these books.
At present, when I searched for "free kindle books" on the Amazon search bar almost 100,000 titles are listed.  So grab the link below and get started.
My first Kindle book "An Unconventional Outlook: Reiki"  just launched on Amazon, don't forget to check out. 
If you have any questions about Kindle Unlimited, let me know in the comments below.